May is National Electrical Safety Month
Thursday May 19, 2016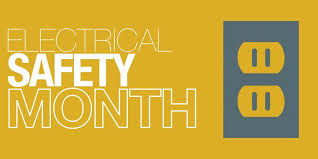 Reduce Risk of Fires & Electrocutions:
Incorporate Advances in Technology &
Take Time to Re-Evaluate your Safety Practices
May is National Electrical Safety Month and raising awareness about electrical hazards is the key to reducing home electrical fires, injuries and death.
Together, we can reduce the number of electrically-related deaths and injuries – one home, one school, and one workplace at a time.
Join Chapple Electric, ESFI and thousands of organizations across the country as we work to raise awareness of what it takes to stay Safe-ForLife.
Electricity is a major cause of home fires. As each year goes by, Americans continue to use more energy in their homes. At the same time, the electrical systems in many existing homes have become outdated, and are unable to handle the demands of today's electrical appliances and devices.
Estimates indicate electricity causes 140,000 fires each year. Aging electrical systems, combined with the growing power demands, contribute to electrical fire hazards. Overloaded circuits, flickering lights, and discolored electrical outlets and light switch faceplates point to the need for electrical upgrades. Addressing these hazards can save lives, reduce injuries and cut economic losses caused by electrical fires. This is where Chapple Electric comes in.
But now, new technology such as arc fault circuit interrupters (AFCIs) and tamper resistant receptacles (TRRs) are preventing tragedy before it ever occurs. In fact, these devices have proven so effective that the National Electrical Code (NEC) significantly increased requirements for AFCI and TRR protection in all new homes.
Incorporating recent advances in technology into your home can help reduce the risk of fires and electrocutions. Take time this month to re-evaluate your safety practices and help others raise their awareness.
Chapple Electric Latest News & Blogs
May is National Electrical Safety Month
About Chapple Electric
Chapple Electric LLC is a second generation, family owned company that was started in 1978 by our founder, Charles Chapple. What started out as a small 2 man operation doing residential electrical repairs has now become a large commercial, residential and industrial electrical contracting company, which operates with several crews across the state of Michigan. From the very beginning, complete customer satisfaction has been the cornerstone of our success and longevity.
Chapple Electric is one of Michigan's most trusted names in electrical repairs, installation and upgrades. Since 1978, we have been committed to excellence in design, workmanship, competitive pricing and customer service.
Read More
Why Choose Chapple Electric?
At Chapple Electric, we know that the electrical system is the lifeblood of any structure. How that system functions can either enhance or hamper the comfort and productivity of its occupants. In order for the electrical system to function properly, it must be designed and tailored to the owner's needs and usage, correctly installed and be backed by a service team available 24 hours a day 7 days a week.
To ensure this happens, you need to work with a company that's on top of the trade. One that knows electrical systems inside and out, and is in step with all the current codes and standards for the profession as well as the latest in technological and product advances. A company that has the professional staff and experience to design, build, deliver, install and maintain a system that's done right.
Read More
Our Location
Corporate
11220 Torrey Road
Fenton, MI 48430