Out-of-the-Box Gift Ideas for Dad
Wednesday June 16, 2021
If you are trying to find something special for Dad that isn't socks or a tie, let us give you some out-of-the-box suggestions for gifts that Pop can really use.

Naturally, we have some lights in mind but there are several different gifts you can get for the father-figure in your life.



Save Him Some Cash

What better way to say "Thanks, Dad" than to line his pockets with cash—indirectly, that is. Cree's LED light bulb maintains the traditional design and warm white glow of a 60-watt incandescent bulb. But the gift comes in the form of energy saved; the most recent generation of this LED consumes only 11 watts of power. That's up to an 85% reduction in energy costs. The 25,000-hour life span and the generous 10-year warranty are just few other reasons why this bulb was featured in Men's Journal as part of their list for "The Greatest Gear of the 21st Century".



Get His DIY Done Easy


Some of us have fathers who like to do it all. Why not buy the amateur mechanic/carpenter/handyman you love a set of work lights? Lightweight and flexible, powered by either a standard outlet or using an adapter for Dad's car, these simple 10-watt LED work lights give your dad the light he needs to pursue his latest fixer-upper.



Make His Landscaping Easier

For those green-thumbed Dads, a water timer is thoughtful gift. This analog water timer by HydroFarm attaches to the common garden hose and requires only 2 AAA batteries. Now all Dad has to do is turn the knobs and set the watering frequency from 1 hour to 1 week with a run time of 1 minute to 2 hours. It's a great gift of convenience, allowing him more time to do the pruning or planting he loves.




Upgrade His Man Cave

Maybe Dad has a place where he can just "get away" from it all. Elevate your Dad's man cave by installing dimmers and LED downlights. The 65-watt equal Curtis Mathes 6-inch LED downlight module comes with two adapters, one for your household screw-in E26 socket and one for GU24 sockets. While dimmer installation isn't for the electrical novice, submit a work request to replace the original switches with LED-compatible dimmer switches to match Dad's new lighting. With these improvements, Dad can watch his ballgame, action movie, or just doze off in style.



Smarten Up His Home

As an early adopter of technology, Dad has to have the latest and greatest in tech gear. You can really raise his eyebrows with the Lutron Smart Bridge for Lutron's Caseta wireless devices and shades. The Smart Bridge can control up to 50 devices, allowing your Dad to turn lights on or off, dim lights, set lighting schedules, or control the thermostat from the Lutron app.


Never Be Without Power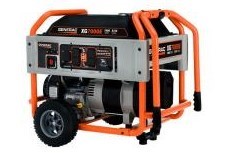 Kick off this year's camping season by gifting a dad you love with a portable generator to power all your outdoor activities this summer. Portable generators are a compact solution to many of life's power needs. We sell everything from small portable generators to standby generators that help keep essential home appliances running in an outage. Portable power solutions must be operated safely-read instructions thoroughly before operating.




Lighten Up His Life

For a flexible solution to any lighting need, you can use flexible LED TAPE LIGHTS, also known as LED ribbon or LED strip lights. These exceptionally low profile LED lights can be taped anywhere with ease, and as if that weren't helpful enough, they can even be cut into sections to suit your exact dimensions!

They offer tape lights suitable for indoor and outdoor use, as well as low voltage and color changing options. For help choosing the right LED tape light for your project, call us.



Love The Adventurer In Him

This LED battery operated head work light with 21 super bright LEDs (The LED Cyclops) attaches to your head with adjustable lycra bands. It can be used as a hands-free indoor or outdoor work light (while doing electrical work in the dark) or for night hiking, bicycling, or camping.




Watch Dad Fix Everything


One of our favorite all-around multi-tools, the Kelvin .36 All In One Tool is a handy gift for a handy dad, and it has more functions than you can shake a loose screw at. Each function has been carefully planned out to tackle almost any household item that needs fixing, all in a cast aluminum body small enough to fit in a tool belt, bag, or glovebox.

Get one of these for Father's Day and watch Dad start fixing things you didn't even know needed fixing.
About Chapple Electric
Chapple Electric LLC is a second generation, family owned company that was started in 1978 by our founder, Charles Chapple. What started out as a small 2 man operation doing residential electrical repairs has now become a large commercial, residential and industrial electrical contracting company, which operates with several crews across the state of Michigan. From the very beginning, complete customer satisfaction has been the cornerstone of our success and longevity.
Chapple Electric is one of Michigan's most trusted names in electrical repairs, installation and upgrades. Since 1978, we have been committed to excellence in design, workmanship, competitive pricing and customer service.
Read More
Why Choose Chapple Electric?
At Chapple Electric, we know that the electrical system is the lifeblood of any structure. How that system functions can either enhance or hamper the comfort and productivity of its occupants. In order for the electrical system to function properly, it must be designed and tailored to the owner's needs and usage, correctly installed and be backed by a service team available 24 hours a day 7 days a week.
To ensure this happens, you need to work with a company that's on top of the trade. One that knows electrical systems inside and out, and is in step with all the current codes and standards for the profession as well as the latest in technological and product advances. A company that has the professional staff and experience to design, build, deliver, install and maintain a system that's done right.
Read More
Our Location
Corporate
11220 Torrey Road
Fenton, MI 48430