Severe Weather:What you Need to Know
Wednesday November 15, 2017
IT'S NOT IF....IT'S WHEN.

Winter is approaching and winter storms are inevitable -when they meet our outdated electric power infrastructure, the result is often widespread power outages.


The time to prepare is before severe weather hits. It's not a question of 'if' but 'when' the next storm hits-will you and your loved ones be ready? And what do you need to do to better prepare at home, work, school, and on the road?
Winter weather preparedness consists of THREE SIMPLE STEPS:
1.PREPARE YOUR HOME AND FAMILY FOR SEVERE WEATHER

Make a plan and practice the plan with your family and those who depend on you.

Build a kit. Create an emergency preparedness kit with at least a three-day supply of non-perishable food and water for your home and office. Kits prepared for vehicle road travel and winter weather evacuation go-kits are also advised.

2.HOME BACKUP POWER. COMFORT. SECURITY. CONVENIENCE.

A permanently installed Generac home backup generator protects your home automatically. It runs on natural gas or liquid propane (LP) fuel, and sits outside just like a central air conditioning unit. A home backup generator delivers power directly to your home's electrical system, backing up your entire home or just the most essential items.

Have A Backup Heating Source
While this is probably the most obvious point, it is also quite possibly the most important. If your home's heating system breaks down in the middle of winter, having a backup generator for your home to restore power can actually be a lifesaving piece of equipment.


Continue Running Your Business
Having a backup generator for your home or business can allow you to keep working or avoid closing down in the event that your area loses power. A power outage can be extremely costly to a small business or to anyone who does freelance work for a living, so why take the chance?


Keep Essential Appliances Running
Making sure you have a backup generator for your home can help you rest easy knowing that you won't have to throw out an entire refrigerator full of food if the power goes out for any extended period of time. It is also a great way to make sure that your mobile devices, home security systems, or essential medical equipment has the power it needs to keep functioning when the power goes out.


Keep Your Sump Pump Running
If your home has a basement and you lose power in the middle of a storm, that means your sump pump will no longer be working. Water damage isn't cheap to repair, and can lead to a lasting nightmare as it is extremely difficult to isolate and repair water damage.


3.STAY INFORMED. STAY SAFE. WHEN THE STORM HITS.


Winter Storm Watch
This product is issued by the National Weather Service when there is a potential for heavy snow or significant ice accumulations, usually at least 24 to 36 hours in advance. The criteria for this watch can vary from place to place.
Winter Storm Warning
This product is issued by the National Weather Service when a winter storm is producing or is forecast to produce heavy snow or significant ice accumulations. The criteria for this warning can vary from place to place.


Blizzard Warning
Issued for winter storms with sustained or frequent winds of 35 mph or higher with considerable falling and/or blowing snow that frequently reduces visibility to 1/4 of a mile or less. These conditions are expected to prevail for a minimum of 3 hours.
During the Winter Storm

Walk carefully on snowy, icy walkways
Avoid overexertion when shoveling snow; overexertion can bring on a heart attack — a major cause of death in the winter
Watch for signs of frostbite: loss of feeling and white or pale appearance in extremities such as fingers, toes, ear lobes and the tip of the nose. If symptoms are detected, get medical help immediately
Drive only if it is absolutely necessary. If you must drive: travel in the day, don't travel alone, keep others informed of your schedule, stay on main roads and avoid back road shortcuts
Let someone know your destination, your route and when you expect to arrive. If your car gets stuck along the way, help can be sent along your predetermined route
Carbon Monoxide Safety
Never use a generator, grill, camp stove or other gasoline, propane, natural gas or charcoal-burning devices inside a home, garage, basement, crawlspace or any partially enclosed area. Locate unit away from doors, windows and vents that could allow carbon monoxide to come indoors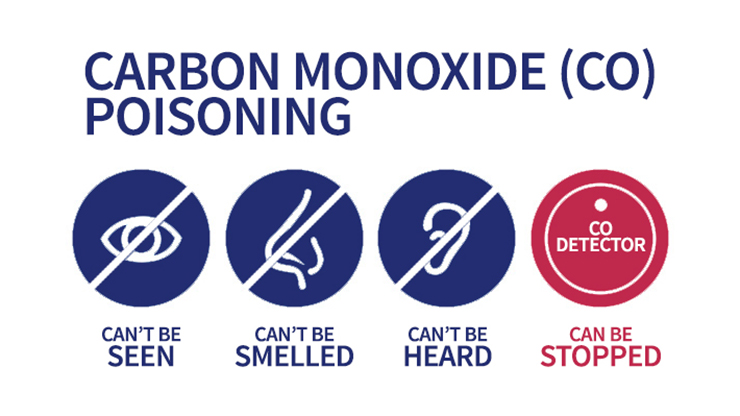 Install carbon monoxide alarms in central locations on every level of your home and outside sleeping areas to provide early warning of accumulating carbon monoxide

If the carbon monoxide alarm sounds, move quickly to a fresh air location outdoors or by an open window or door

Call for help from the fresh air location and remain there until emergency personnel arrive to assist you



CALL CHAPPLE ELECTRIC TODAY FOR YOUR FREE IN-HOME ASSESSMENT.
Chapple Electric Latest News & Blogs
Severe Weather:What you Need to Know
About Chapple Electric
Chapple Electric LLC is a second generation, family owned company that was started in 1978 by our founder, Charles Chapple. What started out as a small 2 man operation doing residential electrical repairs has now become a large commercial, residential and industrial electrical contracting company, which operates with several crews across the state of Michigan. From the very beginning, complete customer satisfaction has been the cornerstone of our success and longevity.
Chapple Electric is one of Michigan's most trusted names in electrical repairs, installation and upgrades. Since 1978, we have been committed to excellence in design, workmanship, competitive pricing and customer service.
Read More
Why Choose Chapple Electric?
At Chapple Electric, we know that the electrical system is the lifeblood of any structure. How that system functions can either enhance or hamper the comfort and productivity of its occupants. In order for the electrical system to function properly, it must be designed and tailored to the owner's needs and usage, correctly installed and be backed by a service team available 24 hours a day 7 days a week.
To ensure this happens, you need to work with a company that's on top of the trade. One that knows electrical systems inside and out, and is in step with all the current codes and standards for the profession as well as the latest in technological and product advances. A company that has the professional staff and experience to design, build, deliver, install and maintain a system that's done right.
Read More
Our Location
Corporate
11220 Torrey Road
Fenton, MI 48430